About The Ohio State University at Lima
Picture yourself here, strolling across our beautiful campus. Enjoy a virtual tour, with stops at the Perry Webb Student Life Building, historic Galvin Hall, Martha W. Farmer Theatre, Library, campus bookstore and more!
Small campus designed for students who are ready to see the world differently.
When The Ohio State University at Lima offered its first classes in 1960, students came from the small farming communities and larger cities of west central Ohio to fulfill their need for higher education. Since then tens of thousands from the 10-county region surrounding Lima have walked through the campus doors to take advantage of the breadth and reputation of an Ohio State education. The unique spirit of the campus is fueled by student-centered activities, a variety of intramural and competitive athletic opportunities, a thriving arts sector of theatre, music, and the fine arts, as well as STEM-based hands-on learning.
Ohio State Lima builds the future of western Ohio by developing leaders and providing access to the resources and strength of the state's top university. The Ohio State University is ranked No. 16 among the nation's public universities and the No. 1 public university in the state, according to U.S. News and World Report 2017. Students who come to Ohio State Lima find a campus that is a unique blend of a research university and a small liberal arts college. Class sizes are small and individual attention is the norm.
Mission, Vision, Values:
Academic Programs:
A degree from The Ohio State University is a distinction recognizable throughout the world. Whether you start in Lima and finish one of the 200+ majors in Columbus or complete one of our 13 bachelor's degree programs here, Ohio State Lima can be your pathway to an Ohio State degree.
Associate of Arts
2 Degree completion programs
7 Pre-professional Degrees: All of our bachelor's programs can be used as preparation for many professional programs
Honors Program
Phillip A. Heath Center for Teaching and Learning Center
Ohio State Lima also offers the first-year coursework for Ohio State's nationally recognized engineering program. Our students can start any of 200+ Ohio State majors and transition to the Columbus campus once they've completed 30 post-high school semester hours and earning a 2.0 Ohio State GPA. For a complete list of Ohio State majors, go to majors.osu.edu.
Beyond the Classroom Experiences: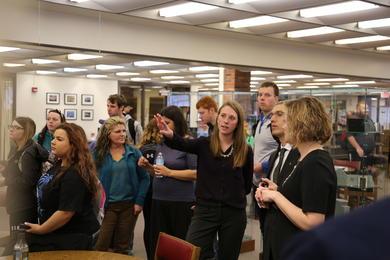 Undergraduate Research
Beyond the classroom, many students at The Ohio State University at Lima advance their research skills by assisting on faculty-initiated research, allowing them the opportunity to work closely with a leading researcher in a field and learn about issues and methodologies. In every department there are also opportunities for student-initiated research. Students apply concepts learned in the classroom to concrete, real-life settings, while being mentored by a faculty member who provides resources and time. Benefits of doing research include developing marketable skills, working effectively in a team, demonstrating ability to meet challenges and complete a project.
Study Abroad
At The Ohio State University, we know education takes all forms. Our study abroad program allows students to learn beyond the brick and mortar classroom. Regardless of which continent our student chose to study, students will benefit both personally and professionally from this life-changing experience.
Earning academic credit, fulfilling degree requirements, students experience hands-on learning and gain invaluable intellectual insight. Students will develop global competencies: the ability to work effectively in international settings; an awareness of and adaptability to diverse cultures, perspectives and approaches; a familiarity with major currents of global change and the issues they raise; effective communication skills that can cross cultural and linguistic boundaries; and a comprehension of the international dimensions of your field of study.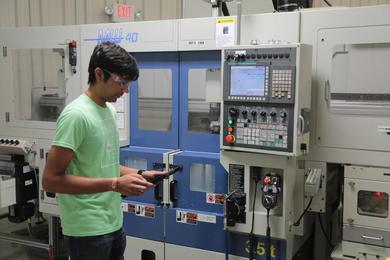 Internships
Internships allow students to learn about themselves and help to define their future career goals by gaining hands-on experiences within their chosen industries. As a result of completing an internship, students are able to link professional experience to academic coursework and gain a better understanding of a specific company or industry which may lead to the possibility of a long-term career fit. Students who complete an internship also have an increased potential for employment after the internship or upon graduation. The Office of Career Services at Ohio State Lima provides students with access and training for internship search skills and advocates that students use the campus wide job board, Buckeye Careers Network.
Student Life and Resources
Life as an Ohio State Lima student doesn't end once classes are over for the day. The Office of Student Life provides a variety of activities and resources for the Ohio State Lima student body. The Office of Student Life is also the office where students learn about joining/forming clubs and find out what events are occurring around campus. Ohio State Lima offers clubs and organizations
Resources
Career Services
Counseling and Consultation
Disability Services
Student Engagement
Wellness
Military and Veteran's Services
Social Media:
Facebook: @ohiostatelima
Twitter: @ohiostatelima
Instagram: OhioStateLima
YouTube: OhioStateLima
RSS